How to measure your wrist size
Use a flexible measuring tape, measure the circumference of your wrist,

where you would normally wear your bracelet,

as shown in the diagram below. Start from "0" cm.

Read your exact wrist measurement. We will provide the right allowance based on our standard wrist patterns.
If you wrist

for

eg. is 14.5cm, Kindly round off and select 15cm at the product page.

We will provide precise measurement and proper fitting. Please take note that we can only ensure proper fitting with correct measurement provided.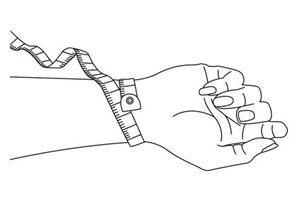 Oops I don't have a measuring tape, how should I measure my wrist size?
No worries! You may use a paper strip or string!
Measure your wrist using a strip of paper or string. Mark your strip with

a pen where the ends of the strip meet.

Then measure the paper strip or string with a ruler starting from "0". This is your wrist size.